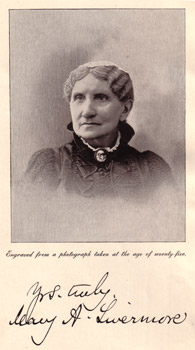 "The world which I shall soon leave is very different from that into which I was born, and is a much better world to live in."
Mary Livermore, in the preface to "The Story of My Life"
On the title page of her autobiography, "The Story of My Life," Mary Livermore lists her occupations: "Teacher, Author, Wife, Mother, Army Nurse, Soldier's Friend, Lecturer, and Reformer." If anything, she understates the case. During her long life, Livermore took an active part in almost every progressive movement of the 19th century: abolitionism, the struggle for women's rights, the temperance movement, even Spiritualism. From the 1860s on she became nationally known as a writer, organizer, and lecturer, and by the 1870s she was the Victorian equivalent of a pundit, frequently offering comments on issues that pertained to women, from tight corsets to the Lizzie Borden case.
Born into a strict Calvinist family in Boston in 1820, Livermore was an intelligent and lively child who benefited greatly from her father's belief in educating his daughters. She attended the Hancock School and the Charlestown Female Seminary, where her scholarship was rewarded by a teaching post.
When Mary was in her early 20s, her beloved younger sister Rachel died, precipitating a spiritual crisis. Already distraught by her loss, Mary rebelled against the Calvinist "doctrine of the elect," which held that salvation was open only to a few selected souls. Unable to accept a faith that would deny salvation to one as innocent as Rachel, Mary turned her back on her father's orthodox Calvinism and learned Greek so she could seek answers from the earliest versions of the bible.
To escape from the scene of her suffering, Mary took a job as governess with a wealthy plantation family in Virginia. The father of the family was well connected politically, and Mary heard many heated discussions of the growing divide between North and South. She also observed firsthand both the cruelty of slavery (even in the hands of a "good" master) and its corroding effects on Southern families and society.
After three years, Mary returned to Massachusetts and took a teaching position in Duxbury. Attending a Universalist church one day, she heard a sermon by a young preacher, Daniel P. Livermore, that helped her resolve her religious doubts. Livermore's Universalist beliefs, which were new to her, held that a loving God would not create human souls only to doom them to eternal punishment. She began to study Universalism, and along the way, fell in love with the young preacher. They were married in 1845.
The next few years were taken up with the duties of a minister's wife, as Daniel tended to congregations in Stafford, Connecticut, Malden and Weymouth, Massachusetts, and Auburn, New York. The Livermores had three daughters, one of whom died at the age of five. Throughout this time, Mary supported Daniel and sometimes defended him as his abolitionist and pro-temperance stands were often unpopular with his congregants. She had also begun writing, and in 1848 two of her stories won awards.
In 1857 the family pulled up stakes and moved west. Daniel's original intent was to move to Kansas with a group of families from Auburn and set up a non-slaveholding community. Mary seems to have balked at the prospect, and the family stopped at Chicago, where Daniel bought a Universalist newspaper, the New Covenant. The couple shared responsibility for the paper, with Mary writing and editing many of the articles and taking full responsibility during Daniel's trips to Kansas. When Abraham Lincoln won the Republican nomination for president, in 1860, Mary was the only female reporter present.
Mary came into her own as an organizer shortly after the beginning of the Civil War, when she became director of the Northwestern branch of the United States Sanitary Commission. The USSC was founded to serve a dual need: On the one hand, the army's medical and sanitation services were hopelessly inadequate. On the other hand, volunteers and donations of food and clothing were pouring in from all over, but they were disorganized and often wasted. The USSC became the agency that checked and shipped donations, coordinated volunteers and medical care, and established sanitary procedures for hospitals and army camps. Mary worked in the Chicago office but also traveled widely behind Union lines, often tending to wounded soldiers in camp hospitals or accompanying them to their homes. She organized several Sanitary Fairs to raise money for the cause, and in 1863 she persuaded President Lincoln to donate his original handwritten copy of the Emancipation Proclamation to be auctioned off to raise funds. A decade later, she wrote about her experiences in "My Story of the War."
Livermore had been lukewarm on the question of woman suffrage before the war, but her experience working with women's organizations convinced her that women were capable of achieving great things, and that the country was doing them a disservice by denying them their place in the public arena. In 1869 she established a women's newspaper and organized Chicago's first woman suffrage convention.
Later that year, the Livermores moved to Melrose, Massachusetts, where they would live for the rest of their lives. Daniel became minister to the Universalist congregation in Hingham, while Mary became editor of the Woman's Journal, a suffragist paper, and began her career as a public lecturer. Over the next 25 years, she traveled the country and made several trips to Europe, delivering lectures on women's rights, history, and religion. She estimated that she gave her most popular lecture, "What Shall We Do With Our Daughters?" over 800 times. She also wrote numerous magazine articles and several longer works, including her autobiography, "The Story of My Life."
During this time she was also an active organizer and booster of both the temperance and the woman suffrage movements. She served as president of the Massachusetts Women's Christian Temperance Union and the Massachusetts Woman Suffrage Association and was twice the Melrose delegate to the Massachusetts Republican Convention.
Livermore retired from the lecture circuit in the 1890s but continued to be active in state and national women's organizations. After Daniel's death in 1899, Mary became interested in spiritualism, the belief that the souls of the dead can remain in contact with the living. In 1905 she died at her home in Melrose. "She was a prophetess of a new and better society 'in which dwelleth righteousness.'," wrote her friend Julia Ward Howe. "She was also the enlivening companion, the loved and trusted friend."